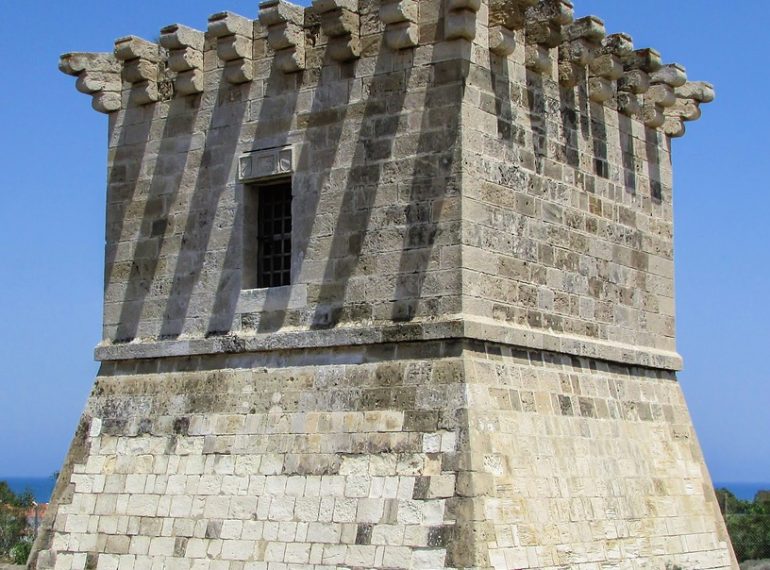 is a small stone tower. There was old observatory. There he stayed Small Guard, which sent messages to the mainland when Arab raids and they in turn take the necessary protective measures. Built in 1489-1570. It is one of the few surviving towers. A remnant of the Venetian occupation of Cyprus.
Around the rocky outer wall depicted the lion of St. Mark was the symbol of the Venetian Republic. Buildings like this Venetian and Frankish style, there are various other parts of Cyprus. After so many thousands of years, unfortunately, is in ruined condition. Some changes and maintenance were in 1911.
Due to the antiques section of Antiquities adopt it as protected since 1905. It is the second protected monument of my village with the church of St. Leontius.
An old tradition says that the Tower of Regina on the coast of Pervolia existed and operated an underground tunnel which used to Regina or in cases of invasion or when she wanted to go to the baths in Tersefanou. The Regina as he spreads this way with the golden chariot, its guards and escorts. The golden coach, according to tradition is still buried in the underground tunnel.
Another tradition says that both green place, with vast expanses of trees is not left untouched even after the goddess Aphrodite and watching Rigainis be bathed in the clear waters of the area of the Tower, came and bathed her here in the orchard. Moreover hitherto kept so clean waters of our sea area.
The Tower of Regina can be seen from many miles away. Standing there for so many years, to remind us of the history of our country.